The Guardian
,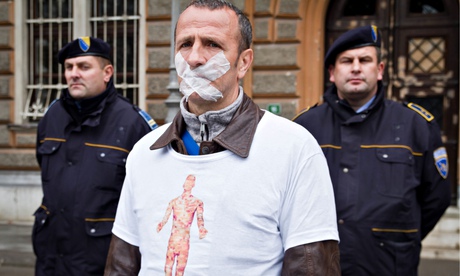 Demonstration in front of the presidential palace in Sarajevo, Bosnia and Herzogovina, 23 February 2014. Photograph: Aurore Belot/Demotix/Corbis
We are extremely concerned by the response of the international community to the popular protests that have erupted against almost two decades of misrule in Bosnia and Herzegovina (Editorial, 17 February). Western media and politicians have argued that now is not the time for the western powers to disengage from Bosnia.
In fact, it is time to recognise that external rule in Bosnia has failed. The Dayton agreement in 1995 set up an undemocratic "protectorate", giving the high representative of the western powers neocolonial authority over a political system that has institutionalised ethnic divisions, while neoliberal economic policies have impoverished ordinary Bosnians regardless of ethnicity.
Do the western powers have any answers to this crisis? The high representative, Valentin Inzko, can think only of threatening military intervention. Periodic threats by the US and the EU to revise the Dayton agreement by recentralising Bosnia have only made matters worse, raising the spectre of secession as Serbs and Croats look to Serbia and Croatia for support. And neither Brussels nor Washington will contemplate reversing the neoliberal economic policies that have impoverished so many.
It is therefore time to terminate the office of the high representative and end outside meddling in Bosnian affairs.
The popular protests have made clear that there is widespread rejection of ethnic divisions and neoliberal policies imposed from above. Free from external economic, political and military pressure, we are confident that the peoples of Bosnia will come together to establish a society based on social justice and national equality.
Samir Amin Economist, Senegal
Cédric Durand Economist, Paris 13 University, France
Emin Eminagić Activist, Bosnia and Herzegovina
Lindsey German Stop the War Coalition (p/c), United Kingdom
Grigoris Gerotziafas Associate professor of hematology-hemostasis, Université Pierre et Maris Curis (Paris VI), militant of Antarsya in France/Greece
Anna Grodzka Member of parliament of the Republic of Poland
Costas Isihos Member of the political secretariat and head of the foreign policy department of Syriza
Mariya Ivancheva Independent scholar and member of the editorial board of LeftEast, Bulgaria
Stathis Kouvelakis Reader in political theory, King's College, London, and Syriza central committee, United Kingdom and Greece
Zbigniew Marcin Kowalewski Researcher and editor, Poland
Aleksandra Lakić Researcher, Bosnia and Herzegovina
Ken Loach Film director, United Kingdom
James Meadway Economist, United Kingdom
Matija Medenica Solidarnost editor, Serbia
China Miéville Author, United Kingdom
Tijana Morača Independent researcher, Serbia
Goran Musić Historian, Austria
Jelena Petrović Red Min(e)d, Slovenia
Dragan Plavšić Lawyer and author, United Kingdom
Florin Poenaru Anthropologist, Romania
Srećko Pulig Aktiv editor, Croatia
Marija Ratković The Culture of Memory, Serbia
James Robertson Graduate student, history, New York University, United States
Catherine Samary Economist, France
Richard Seymour Author and columnist, United Kingdom
GM Tamás Philosopher, CEU, Budapest, Hungary
Mary Taylor CUNY Graduate Center, USA
Vladimir Unkovski-Korica Historian, United Kingdom
Ana Vilenica Uz)bu))na))) editor, Serbia
Andreja Živković Author, United Kingdom